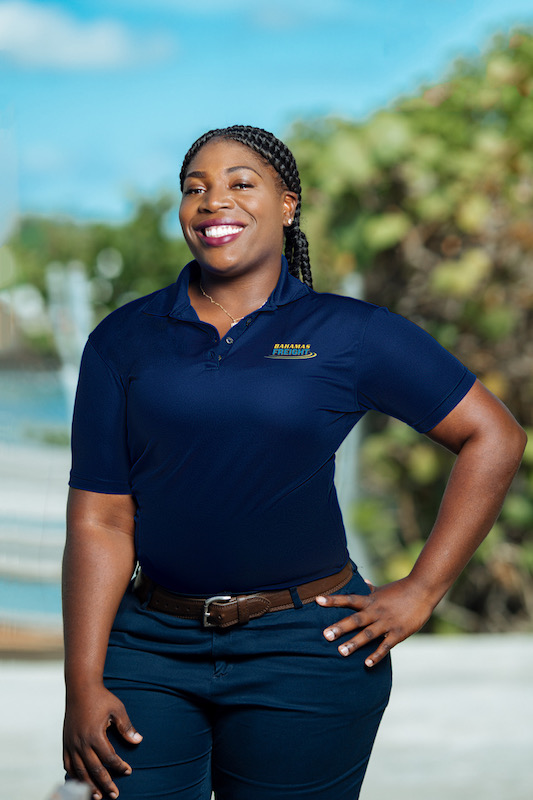 We are happy to honour our Employee of the Quarter for the 3rd quarter of 2017: Christina Peet!
What's your favourite quote?

 

"If you don't listen you will feel"—true words spoken by my grammy
Do you have an office nickname?

 

What is it? "Lilly" or "Peet"
Where is your favourite travel spot in The Bahamas?

 

Eleuthera
If you could do another job for just one day at Bahamas Ferries, what would it be?

 

Reservations- then I can be fully-rounded
If you had to eat one meal, every day for the rest of your life, what would it be?

 

Shrimp and fries
If you were an animal what would you be?

 

Lion
If you were stuck on an island what three things would you bring? Phone, charger, and case of soup (I can eat it cold)
If your house was burning down, what is the one non-living thing you would save?

 

My wallet
What's your least favorite food?

 

Ham
What's your favourite motto or personal mantra? "I can do all things through Christ who strengthens me"- Philippians 4:13
Tell us something about yourself that would surprise us.

 

I was actually a klutz in my younger years
Give us three words to best describe you.

Smiley, outspoken and determined
What are three career lessons at Bahamas Ferries you've learned thus far?

 

Always ask questions, always lend a helping hand you may never know when you will need the help. Always be honest fair and straight up with your coworkers as well as your managers. They will respect you for it.
What aspect of your role do you enjoy the most?

 

I love knowing that I have helped someone, whether answering a question or locating a package for them.
What celebrity do people think you look like?

 

Well I have one customer and a few others who always compares me to Serena Williams.
What do you always want to try and never did?

 

I always wanted to drive a Chevy Camaro 2010…until I get my own of course
What do you like most about your job?

 

Solving problems
What do you like to do on your days off?

 

Sleep lol
What else do you do for fun?

 

Chill out and have a good time with my peeps
What is on your bucket list?

 

Go to Paris!!!
What is the one thing, you can't live without?

 

Food!!
What is the weirdest thing you've ever eaten?

 

Octopus – I don't really eat weird things
What is your biggest pet peeve?

 

Someone touching my stuff without permission, not just once but constantly! Irks me
What is your favourite meal?

 

Curry chicken with mac and coleslaw
What is your favourite sport?

 

Don't really have one but I'm getting interested in swimming
What is your favourite thing to do?

 

Did I say sleep already lol!! I don't have time to do anything else
What is your greatest fear?

 

Dying and going to hell
What is your hidden talent? Liturgical dancing
What kinds of hobbies and interests do you have outside of work?

 

Swimming and online shopping
What one food do you wish had zero calories?

 

Ice cream
What TV show/movie are you ashamed to admit you love?

 

True Blood! Best vampire series ever
What would people never guess you do in your role?

 

Lift boxes!!
Where is your favourite place to eat?

 

In my house
Which cartoon character would you most like to switch lives with and why?

 

Wonder Woman! Because she kicks butt and she can get the truth out of anyone.
Which one would you want most – flying cars, robot housekeepers, or moon cities?

 

Flying cars. I don't want anything that can turn on me one day. I rather just hop in my car and go Paris! lol
Would you rather be a tiny elephant or a giant hamster?

 

Tiny Elephant
Comments