STEPHEN THOMPSON'S CELEBRATORY FAREWELL
We honour Stephen Thompson, Chief Financial Officer, who retired in April 2022 after twenty-two years of stellar service. He was instrumental in the company's growth from the ferry passenger business to a robust freight and logistics business covering the major islands of The Bahamas. In the last five years, Mr. Thompson played a key role in our expansion into the international market for freight and charters particularly from South Florida to The Bahamas.
https://www.kduncombephoto.com/Bahamas-Ferries-Farewell/n-tPCzs2/
SPECIAL AWARDS PRESENTATION TO RECOGNIZE OUR LONG-SERVING EMPLOYEES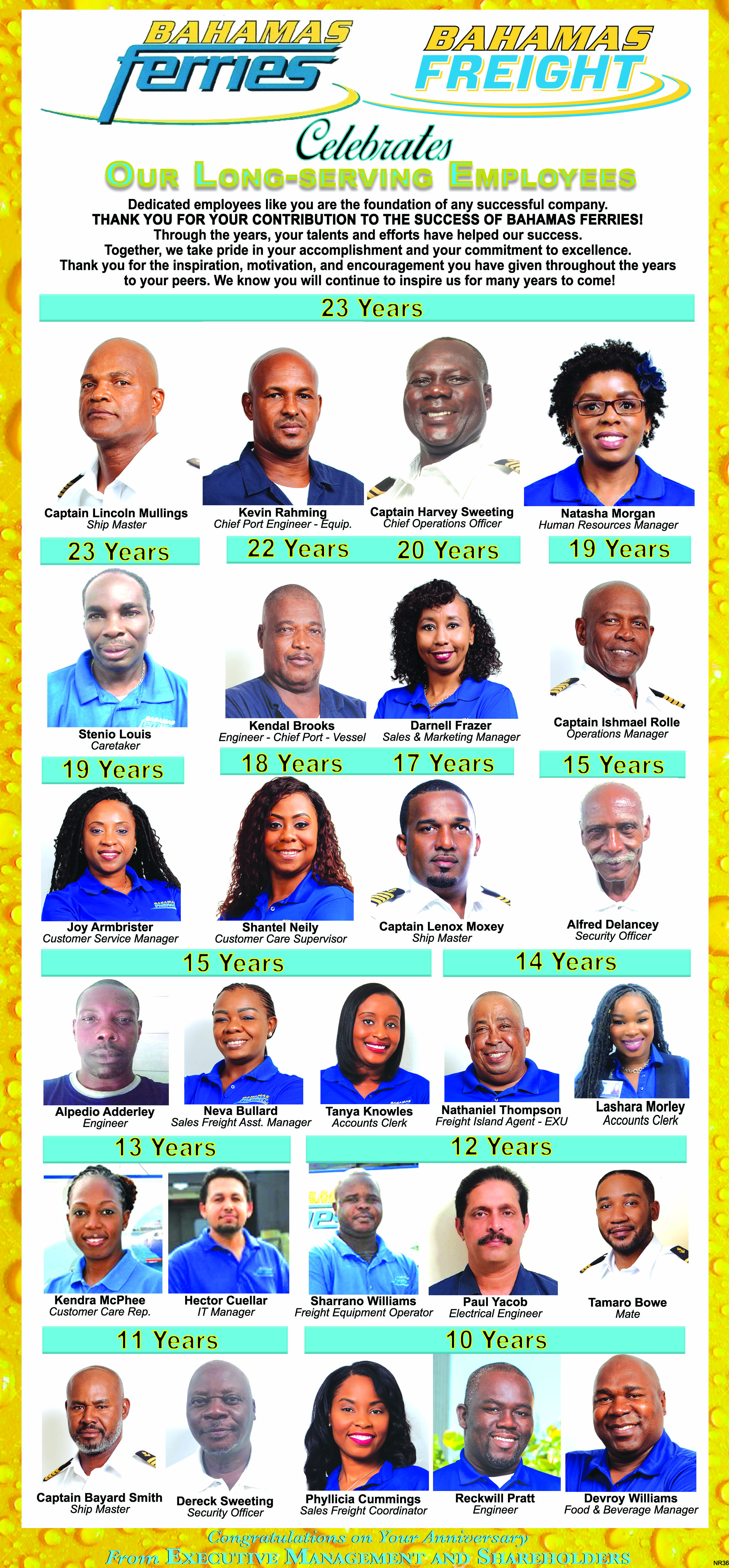 Our loyal and hard-working employees are at the heart of our business. Their commitment to excellence and providing outstanding customer service has contributed to our success. To each and every one of our long-serving employees we say, "THANK YOU" for making us the leaders in the marine transportation industry.
https://www.kduncombephoto.com/Bahamas-Ferries-Long-Service-Awards-2022/n-mX74DT/
VESSELS
no images were found
DESTINATIONS
Nassau
no images were found
Eleuthera
no images were found
Grand Bahama
no images were found
Abaco
no images were found
Exuma
no images were found
Long Island
no images were found
Andros
no images were found
HARBOUR ISLAND DAY-AWAY EXCURSION
no images were found
STUDENT EDUCATIONAL PROGRAMME
no images were found
Andros School Field Trip – Kingsway Academy, Hillcrest Academy, and Eva Hilton Primary (formally known as Oaksfield Primary)
EVENTS
no images were found
STELLAR EMPLOYEES
no images were found
WE GIVE BACK
no images were found
no images were found
CUSTOMER APPRECIATION DAY 2015
no images were found
SEA BREEZE & HONOREES CUSTOMER CELEBRATION CRUISE 2015
ROCK SOUND HOMECOMING 2016
no images were found
CRAB FEST 2016
no images were found
EXUMA REGATTA 2016
no images were found
ALL ANDROS & BERRY ISLANDS REGATTA 2016
no images were found
CAT ISLAND REGATTA 2016
no images were found
HARBOUR ISLAND DAY AWAY ULTIMATE PARTY BOAT 2016
no images were found
SEA BREEZE & HONOREES 2016
URBAN RENEWAL BAND ACADEMIC ACHIEVERS
no images were found
XAVIER'S LOWER SCHOOL
no images were found
ST. ANNE'S
no images were found
ROCKSOUND HOMECOMING 2017
no images were found
Summit Academy
no images were found
North Eleuthera Primary
no images were found
North Eleuthera High
no images were found
Samuel Guy All Age School
no images were found