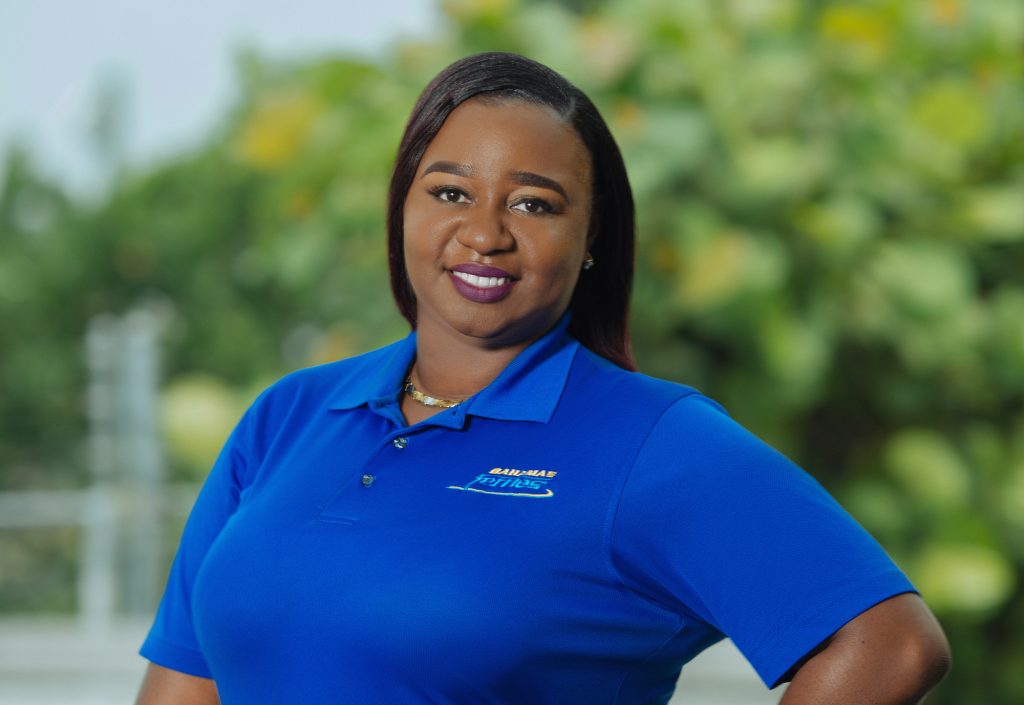 We are happy to honour our Employee of the 3rd Quarter for 2018: Phillippa Mackey!
1. What's your favorite quote? "Life goes on".
2. Do you have an office nickname? What is it? Phills.
3. Do you recall any embarrassing moment at work? Yessss! Falling on the ramp while walking off Sea Link.
4. Where is your favorite travel spot in The Bahamas? Eleuthera (home).
5. If you could do another job for just one day at Bahamas Ferries, what would it be? Captain.
6. If you had to eat one meal, every day for the rest of your life, what would it be? Curry chicken.
7. If you were an animal what would you be? Eagle.
8. If you were stuck on an island what three things would you bring? Boat, fuel, food (lol).
9. If you were to write a book about yourself, what would you name it? Philly's crazy life.
10. If your house was burning down, What is the one non-living thing you would save? My make-up.
11. What's your least favorite Food? Sushi.
12. What's your favorite motto or personal mantra? "Things will work out".
13. Tell us something about yourself that would surprise us. I am very sensitive & emotional.
14. Give us three words to best describe you. Silly, moody, caring.
15. What are three career lessons at Bahamas Ferries you've learned thus far? I've learned how to be a team player, and my customer service skills has improved.
16. What are your hopes for our industry? That it will continue to grow and become more successful.
17. What aspect of your role do you enjoy the most? Helping customers.
18. What do you always want to try and never did? Ride a helicopter.
19. What do you like most about your job? Working with my co-workers.
20. What do you like to do on your days off? Make-up, read, and watch my fav tv shows.
21. What else do you do for fun? Socialize.
22. What is on your bucket list? Travel the world and experience different cultures.
23. What is the one thing, you can't live without? Electricity.
24. What is the weirdest thing you've ever eaten? Sushi.
25. What is your biggest pet peeve? People not saying please, thank you, good morning, afternoon etc.
26. What is your favorite meal? Curry.
27. What is your favorite sport? Tennis.
28. What is your favorite thing to do? Make-up.
29. What is your greatest fear? Ironically the water…LOL!
30. What is your hidden talent? I'm a pretty good actress.
31. What is your personal philosophy? Pursue one's dreams regardless of the opinions of others.
32. What kinds of hobbies and interests do you have outside of work? Make-up, reading, and baking.
33. What one food do you wish had zero calories? Guava duff.
34. What tv show/movie are you ashamed to admit you love? Tom & Jerry and Scooby Doo.
35. What would people never guess you do in your role? Inspect Vehicles/Work between offices.
36. Where is your favorite place to eat? Blue Wave (on the dock).
37. Which cartoon character would you most like to switch lives with and why? Sabrina the teenage witch because of her magic powers.
38. Which one would you want most – flying cars, robot housekeepers, or moon cities? Robot housekeepers.
39. Would you rather be a tiny elephant or a giant hamster? Tiny elephant.
Comments