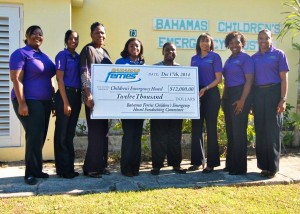 Bahamas Ferries continued its support of The Bahamas Children's Emergency Hostel with a recent donation of $12,000 to aid with defraying maintenance and operational costs at the institution.
The donation, made in December, came just months after the company's $10,000 contribution to the hostel to assist with covering similar expenses.
Bahamas Ferries is deeply committed to making a positive impact in various communities throughout The Bahamas, which has been a key factor behind its alliance with The Children's Emergency Hostel.
Since adopting the institution in November 2005, Bahamas Ferries has pledged to make at least two significant financial donations annually. The company has upheld this commitment, and over the past nine years has donated more than $90,400 in cash and in-kind to the organisation.
President and Chairman of the Board of Directors for The Bahamas Children's Emergency Hostel Arthur Peet expressed gratitude to Bahamas Ferries for its continued support. He noted that the institution's average annual operating cost is $350,000 and that the financial donations through the years have helped with covering facility repairs, utility bills, employee salaries and food and clothing for the occupants.
"We are so happy for the support we've gotten from Bahamas Ferries. They've been very, very good sponsors for many years now," Mr Peet said.
"This latest donation has come at a good time. It's around this time when you look at your outstanding accounts and see how you're going to forecast for the future. It's good to have the account in the black and to move forward into the new year in good standing."
Bahamas Ferries Sales and Marketing Manager Darnell Frazer stated that the company has a special interest in supporting organisations and programmes geared toward youth development. Mrs Frazer added that the decision to partner with the institution was not difficult, as the company has observed the incredible service The Children's Emergency Hostel provides for children in need.
"The most rewarding aspect of supporting the hostel is our ability to provide some of the basic needs for the children and assisting the management team, who has an arduous task of overseeing the daily operation in these tough economic times. The hostel struggles to meet its essential financial obligations, and Bahamas Ferries is committed to alleviating some of the strain," Mrs Frazer said.
Through its pledge to give back to the community, Bahamas Ferries donates an average of $120,000 in cash and in kind to various organisations, programmes and initiatives each year.
Comments